What kind of rug pad for vinyl plank flooring to avoid damage?- It's a common and important question frequently asked by most homeowners.
If you are among them, then this article is for you.
Decorating vinyl floors with rugs adds aesthetic and luxury to your interior. You can use specially made area rugs for vinyl plank flooring. Rugs made of wool, jute, seagrass, sisal, or cotton are safe to use on vinyl floors. However, you need to place a pad underneath the rug to avoid scratches due to friction and add cushioning.
But many people wonder whether a rug pad is safe for vinyl.
In this post, I'll explain what kind of rug pad is safe for vinyl plank flooring.
To explore all the facts about rug pads on vinyl floors, continue reading.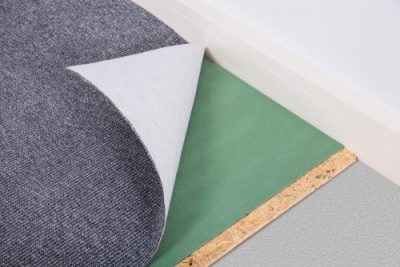 Why Is It Important to Choose the Right Rug Pad for Vinyl Flooring?
Vinyl is made of petroleum-based products and chemical plasticizers. These components badly react with certain types of floor covering such as floor mats, rug pads, and rugs.
So, what materials do you need to avoid?
Most of the area rugs come with different backing materials. Some of the backing materials are vinyl safe and some are not.
Cheaper rug pads usually contain adhesives, glues, oils, or toxic chemicals that badly react with chemicals found in vinyl.
Can you use rubber-backed rugs on vinyl flooring?
Rubber-backed area rug is not safe to use on vinyl floors.
Vinyl or plank flooring undergoes an ugly reaction with rubber and leaves behind stains, ugly mesh patterns, and icky musky residue. If you place an area rug with rubber backing, your beautiful vinyl or vinyl planks floor may end up with yellow stain marks and discolor over time.
Many rubber pads add coating with adhesive to enhance grip with the floor. Unfortunately, in the long run, it'll destroy your vinyl plank floor. Avoid using rug padding that is made with PVC.
So, it's important to choose the rug pad that is specially made for this type of flooring.
So, What Kind of Rug Pad for Vinyl Plank Flooring?
Use vinyl safe rugs and rug pads.
Use rug pads that contain no materials that may react with vinyl. Before making a purchase, make sure the rug pad is made of materials that are compatible with vinyl.
Rugs that feature backing made from natural fiber are safe for vinyl plank flooring. You can also use cotton-backed floor area rugs, wool, or handwoven rugs without any kind of backing.
It's worth noting that although jute is not harmful to vinyl, you should avoid jute-backed rugs. This is because jute backing is not soft and tends to be scratchy.
So, be very careful when shopping for rugs or rug pads for vinyl floors if you don't want to ruin your expensive vinyl plank floor.
My recommendation for the best rug pads for vinyl plank flooring is RUGPADUSA Basic felt Protective Cushioning Rug Pad.
This basic felt rug pad is safe for all floors and finishes including hardwoods and vinyl plank flooring.
If you're looking to maximize cushioning of your area rug, the RUGPADUSA rug pad is an excellent option. It's available in ½-inch, ¼-inch, and 3/8-inch thicknesses.
Made of 100% recycled felt, it is one of the most recommended vinyl floor-safe rugs. It won't mark or stain your floor finishes.
Conveniently, it's easy to trim to your desired size with household scissors.
Find more options and our expert reviews for the best area rug pads for vinyl floors here.
What Kind of Rug Pad for Vinyl Plank Flooring- Related FAQs
The following FAQs will help you to learn more about the vinyl floor and rug pad.
What are the advantages of vinyl flooring?
Vinyl plank floor is always classic and an excellent alternative to hardwood floors. They are more flexible and versatile than hardwood and tile flooring.
They absorb sound better than a hardwood floor. They also feel softer and warmer on foot. Most importantly, this flooring is easy to care for and requires very little maintenance.
The waterproofness feature of this floor makes it a great choice to use in high-humidity climates.
What are the disadvantages of vinyl flooring?
As mentioned above, the vinyl floor is softer than other types of flooring. So, heavy furniture and sharp objects can abrasions, scratches, and other damages.
Do you need a rug pad on vinyl plank flooring?
Yes, you should use a rug pad underneath the rug on vinyl plank flooring.
What does a rug pad do?
There are several benefits of placing a pad underneath your rug:
Pad will protect your floors from friction with the rug backing.
It saves the rug backing from wear and tear.
If your area rug is thin, rug pads add much-needed thickness to it.
Placing the pad underneath the rug helps to keep it in place. It also prevents slipping hazards.
Will rubber-backed rugs discolor vinyl?
Yes, Rubber-backed area rug discolor vinyl floor over time.
How to choose rug pad size?
Your rug pad should be 1-inch less than your area rug size on all four sides. For example, if your rug size is 8 ft.x10 ft., then your rug pad size should be 7 ft. 10-inch x 9 ft. 10 inches.
Is PVC safe for the vinyl floor?
No. Many cheap rug pads are made of cheap plastic called PVC. Unfortunately, these rug pads are unsafe for vinyl floors. Because these pads contain glues and other adhesives that tend to stick to the vinyl. It also seriously affect indoor air quality.
Can you put heavy furniture on vinyl plank flooring?
The vinyl floor is remarkably weight-sensitive. But it can accommodate heavy furniture. However, you should be very careful and plan beforehand. Otherwise, putting heavy furniture in vinyl flooring may cause a tear on the outer layer.