Not sure how to choose the right rug pad?
This article will help you figure out the right materials, size, and thickness of your rug pad.
An excellent rug pad should have supportive cushioning for comfort and protection. It shouldn't scratch and damage your floor. If you need a slip-resistant rug pad, keep in mind that the pad should have a strong grip on both the floor surface and your area rug.
Selecting the right rug pad depends on three key considerations.
First, rug pad size.
Second, rug pad type/ materials (Compatibility with your floor type).
Third, rug pad thickness.
How to Choose the Right Rug Pad- What to Consider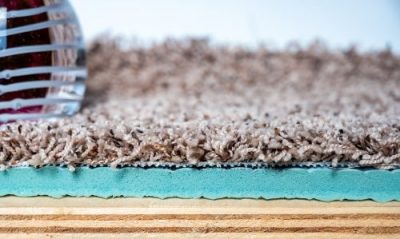 Here is more about these three above-mentioned factors.
1. Choose Your Pad Based on The Size of Your Area Rug
What size rug pad do I need?
A pad should be slightly small in length and width than the actual size of your rug. A smaller sizes rug helps the edges of the rug to taper to the floor. As a result, it prevents tripping hazards. In addition, it prevents curling at the edge of the rug and premature wear.
Another reason why the pad should be smaller than the rug is- so that the edge of the rug pad is not visible.
How do you choose a rug pad size?
The way to determine the right size rug pad is simple.
The pad will be one inch smaller on all four sides than that of your rug. In other words, pad should be 2 inches shorter in length and 2 inches shorter in width than that of your rug.
So, if your rug is 8 ft by 10 ft., your pad should be 7 ft. 10 inches by 9 ft. 10 inches.
Most rug pads are easy to trim with scissors to match the exact shape and size of your area rug.
Here are some common rug sizes, and the required size of the rug pad that you may need:
| | |
| --- | --- |
| Rug Size (feet) | Rug Pad Size |
| 5×7 | 4'10″ x 6'10" |
| 5×8 | 4'10″ x 7'10" |
| 8×10 | 7'10″ x 9'10" |
| 8×11 | 7'10″ x 10'10" |
| 9×12 | 8'10″ x 11'10" |
2. Choose the Right Types of Rug Pads By Material
Your rug pad should be compatible with your floor.
You should choose a rug pad that is intended to use on your floor type. Some flooring types may be slippery, while other types are prone to staining and stripping. Sometimes the priority is cushioning your carpet or rug, while sometimes it's all about grip.
Rug pads are made of different materials such as felt, natural rubber, synthetic materials.
Among them, felt and natural rubber is the best rug materials. However, first you should consider the type of your floor then opt for the rug pad that is safe for that specific floor type.
For example, non-rubber rug pads are safe for vinyl floors. Rug pads made of soybean blends, felt, or visco-elastic memory foam are also vinyl-friendly.
Rug pads made with natural rubber or that features natural rubber backing are safe for laminated surface.
Felt:
100% felt rug pads are soft, dense, and comfortable under feet. This pad is perfect to use on bamboo, tile, stone, and hardwood. They are also great for vinyl plank floors.
Felt pad helps to enhance the life span of rugs, protect your floor from scratches and damages caused by heavy furniture and they are also soundproof.
Scratch-prone rug types, such as jute-made rugs, should always pair with a felt rug pad.
On the downside, a felt rug pad is not a great option for grip.
Synthetic materials:
Rug pad made of synthetic materials is an affordable alternative to felt or natural rubber rugs. Rubber rugs are excellent for both grip and protection.

Unfortunately, it's not recommended to use on some floor types. They can cause sticking or yellowing. Because, synthetic materials contain chemicals that react with vinyl, resulting in stain and discolor of vinyl plank floors.
Felt and Rubber Mix:
Pads made with felt for medium cushioning and rubber backing for grip are good for support and traction. This combination provides a soft feel under your feet while holding your rug in place.
They are also soundproof, and waterproof.
This type of pad is great for a variety of floor types, including tile and hardwood floors.
Memory Foam Rug Pad:
If you want plush cushioning and dense, this type of pad is best for you. This rug pad uses rebounded foam, polyurethane foam, natural minerals, and soybean oil.
They offer both protection and cushioning. Unfortunately, memory foam pads are not slip-resistant.
You can use this pad on tile, carpet, bamboo, concrete, hardwood, stone, and vinyl.
As long as you choose a high-quality pad with appropriate materials for your floor type, it'll be a great investment to offer you long-term benefits.
3. Choose the Right Pad Thickness
Rug pads come with different thicknesses. They are available anywhere from 1/16-inch to ½-inch.
Decide how thick of a rug pad you prefer. Keep in mind that The thickness can affect functionality, performance, and safety.
If you're looking for cushioning, a ½-inch pad will be right for you. Thicker rug pads provide more cushioning and protection, but they are costlier than thin ones. If your door opens over the rug, a thicker rug will be problematic. Again, it also could be a tripping hazard.
If you're afraid of tripping hazard or it getting in the way of the door opening, go thinner.
Thinner pads are less expensive, but they only keep your rug from slipping.
Choose Between Grip Rug Pad and Cushion Rug Pad
As mentioned earlier, some rug pad is the best deal for grip while some are best for cushion.
A rug placed in hallways or foyers receives a lot of foot traffic. In general, Rugs in these areas are not anchored by furniture and tend to be smaller than the living room, dining room rugs. So, they're prone to bunching up and sliding. Moreover, they can result in trips and falls.
So, if you place a rug in a high-traffic area, you should place a rug pad underneath your rug that offers a lot of grips. A natural rubber rug pad can be a good option for slip-resistant pads.
Larger rugs that are placed in the dining, living, or bedroom are more likely to have been anchored by furniture. So, they suffer less from sliding.
You can place rug pads under your area rug to add cushioning. It'll provide a soft feel for sitting on walking on.
Rubber and felt mix rug pad offers both grip and comfort.
I'd recommend going through this link to find the best rug pads by floor type, by materials, and by function.
How to choose the right rug pad- My Parting Words….
When it comes to the right rug pad, no one rug pad is better than the others. It all depends on your floor type, the area rug, and your preferences.
I hope these guidelines on how to choose the right rug pad have helped you pick out the perfect one for you.