Are you one of them who spend the working day sitting at a desk?
Anyone who has scoliosis knows the discomfort of sitting a long time in the office or at home. A longtime desk job can be risky to your overall health if you already deal with scoliosis.
Scoliosis can affect your mobility and overall well-being. So, it is particularly important to identify the best sitting position for preventing further progression.
In this guide on how to sit with scoliosis, I'll uncover the best sitting position for people with this condition.
The main objective of this post is to educate individuals with scoliosis to have a comfortable sitting experience on their chairs for extended periods without making their stiffness or pain worse.
There is more, so continue reading!
Posture and Scoliosis- How Posture Affects Your Physical Condition
"Bad postures" are when the nerves, joints, tissues, and muscles need to work harder to maintain a particular position. Poor postures put pressure on certain parts of your musculoskeletal system.
"Good postures," on the other hand, are those in which the nerves, joints, tissues, and muscles work the least.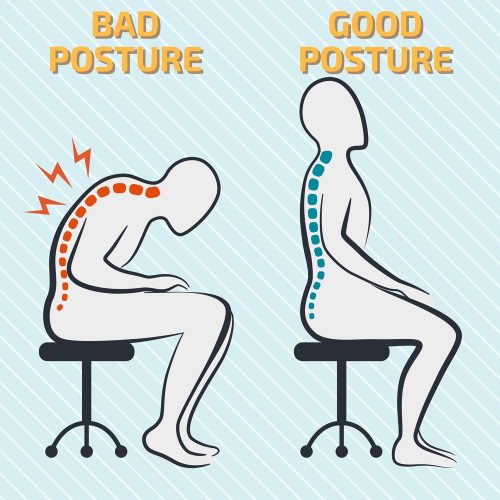 Posture is very important regardless of whether you're sitting, sleeping, or standing. It plays a significant role in the management of scoliosis.
Back pain is a common symptom of scoliosis and poor desk posture can worsen this condition. It may even contribute to the continued progression of your existing spinal curve.
Fortunately, proper posture can potentially minimize pain and help mitigate other back problems caused by poor or bad posture.
Although it is somewhat challenging to maintain a good sitting position, it could do you a world of good. Unfortunately, many people with scoliosis forget about the importance of good posture while sitting.
To maintain good posture and reduce pressure on your spine and surrounding tissues, it's essential to distribute your weight evenly. Thus, good postures help your joints bear an equal amount of pressure at all times.
Tips on How to Sit in a Chair with Scoliosis
The proper sitting position may help you to cope with this condition. Sitting on a chair maintaining the proper posture may relieve you from muscle stiffness and physical discomfort while sitting for a long time.
1. Maintain Proper Posture While Sitting On a Chair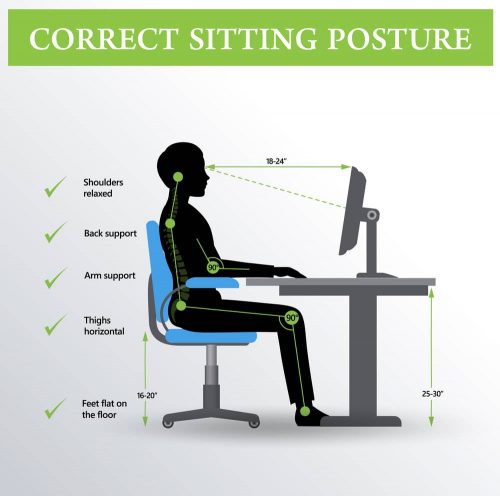 When sitting on a chair, place your weight firmly on the thighs and buttocks. For this, position your back against the chair's backrest keeping your back straight. Don't tilt or curve forward or backward.
Keep your pelvis neutral. Don't sit on the edge of the seat.
Your both feet should remain planted firmly on the floor. Don't hang your feet while sitting, as it may put unnecessary tension in your lower back.
Aim to sit in a chair offering your lower back support.
To achieve better alignment while sitting, avoid crossing your legs. Crossing your legs may contribute pain to the lower back.
Try to take a short walk at every 30-minute interval.
2. Perform Simple Desk Exercises/ Stretches to Cope with Scoliosis When You Work at a Desk
When you're focusing on your work, it can be very easy to fall into poor posture.
So, not just the sitting posture, scoliosis patients also need various desk exercises to perform every 30 minutes during office hours.
A scoliosis patient can experience stiffness and pain around the back muscles and spine. Fortunately, performing desk exercises is a great way to prevent the discomfort of sitting for extended periods at your desk.
To deal with this condition, you can perform different light exercise at work. You can perform these exercises while seated at your desk.
Desk Exercise #1
Sit forwards and comfortably in your seat with your back straight.
Bend both of your knees 90 degrees.
Firmly place both of your feet flat on the ground.
Place both of your mid-forearms and palm underneath the desk. At this stage, your elbows will bend at a 90-degree angle.
Gently apply pressure with your elbow on the desk in an upwards direction. At the same time, extend your back.
Elongate your neck and hold this position for at least 30 seconds. Repeat this step three times.
Try to perform this exercise at a 30-minute interval. It'll help you a lot to relieve any tension.
Desk Excercise #2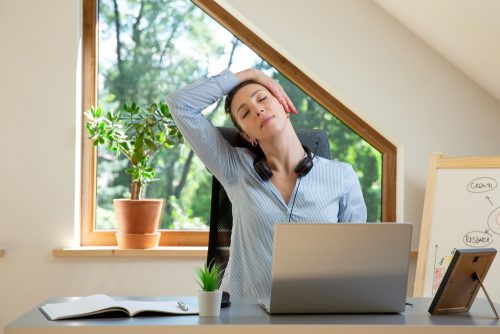 Sit forward in your office chair.
Keep your knees bent at 90-degree. Keep your feet flat.
Place your left hand behind your lower back.
Look over to your right side and downwards towards your armpit.
Place your right hand onto the back of the head (called occiput).
Gently apply pressure with this hand to stretch your neck in a downward and diagonal direction.
Hold for 30 seconds and relax. Then, repeat three times for one set.
Swap the sides and repeat this stretch.
Perform this stretch 30-minute interval.
Desk Excercise#3
Sit comfortably in your chair while keeping your feet firmly flat on the floor.
Keep your knees bent to 90 degrees with the ground.
Place your left leg's ankle across your right knee.
Push down gently on the crossed leg. It'll help you to stretch the piriformis muscle.
Hold for 30 seconds and repeat this stretch three times for one set.
Perform the same with your right leg.
Complete this exercise after every 30 minutes of sitting.
These are the great ways to release muscle tension caused by prolonged sitting, especially when dealing with scoliosis. It'll also help prevent back pain while sitting for a long time and improving your conditions in the long run.
3. Use the Right Ergonomic Chairs for Scoliosis Sufferers
Not only improper posture but also sitting arrangement can worsen the discomfort of people who have Scoliosis.
All you need to do is find the right office chairs for Scoliosis for your spine health. It'll help you to keep the discomfort and pain in control.
Check your selected chair is designed to provide proper head, neck, and back support. A chair with appropriate neck support will ensure a neutral midline that will prevent pressure build-up and tackles the condition of Scoliosis from getting worse. It'll also provide optimal back support to prevent the individual from slouching forward.
A chair with lateral back support will prevent pain and discomfort around the spine and back. An ergonomically designed chair reduces the risks of further bending or twisting of the spine for further curvature.
Another important point is- your office chair should complement your height. It's better to use a chair with adjustable height so that you can change the height of your chair for optimal support and comfort.
A Word of Caution!
You should avoid armless desk chairs or chairs like soft sofas.
If you don't have the option to change your office chair provided for you, you can opt for an orthopedic seat cushion or scoliosis seat cushion. It can be an alternative to offer you better comfort and proper alignment.
Conclusion
Spending extended time sitting down at your home or office chair is nothing hazardous if you follow the instructions mentioned above.
In summary, follow the correct sitting posture, perform desk exercises at 30-minute intervals, use the right chair, and have a comfortable sitting experience on your chair for extended periods.
Don't forget to seek timely medical help if the condition affects your quality of life.
Sit comfortably and protect your back!
Thanks for reading our simple guide on how to sit with scoliosis.