How to keep recliner from sliding on wood floor?– there are various effective and affordable solutions to prevent the recliner from sliding and protecting your wood floor.
In this post, I'll explain all of these.
Why Are Recliners Prone to Slipping on Wood Floors?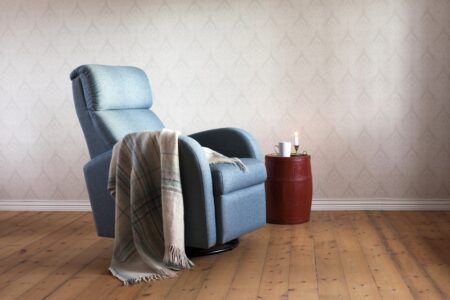 The recliner is a wonderful option to sit and take a rest after a long hard working day. Especially, if you like to rock and recline, a rocker recliner is an excellent option that also provides total body and lumbar support at all times.
Unfortunately, if you are not careful enough, the recliner could cause a couple of issues if you place it on the wood floor.
First of all, recliner is prone to sliding around on the wood floor which is quite annoying while you rest on it.
Secondly, it may permanently scratch and damage your wood surface.
Wondering why do recliners slide on the wood floor?
Here are the reasons of furniture sliding on hardwood:
The smooth finishes of wooden floors produce a slippery surface. So, it can't provide much grip or produce much friction with recliner legs or anything above it.
Most recliners come equipped with feet that feature a smooth finish on them. It's also one of the reasons for sliding.
How to Keep Recliner from Sliding on Wood Floor- 5 Effective Solutions
Looking for something to keep furniture from sliding?
Here are the 5 best ways to stop the recliner from sliding on the hardwood floor.
1. Non-Slip Furniture Grippers
My first recommendation is furniture grip pads or grippers. This stuff is designed for stopping any furniture with feet- recliner, couches, chairs, sofas, dressers, beds, etc- from sliding on your wooden floor. If you don't need to move your recliner regularly, a grip pad is the best option for you.
In general, they are available in square and circle-shaped. They are made of non-slip, rubber-like materials such as grooved rubber. However, they do not stick onto the bottom of the legs, rather each leg sits at a top of a pad.
Comparatively, these protecting pads are less expensive and easy to use. Place the grip pads underneath each leg of your furniture or recliner.
Downsides of Furniture Grippers
They don't look aesthetically pleasing. However, if you use the same size pads as your furniture feet, they won't be noticeable.
Designed for recliners with feet. If your recliner chair features a metal framework or base, you can't use these.
Best Furniture Pads for Hardwood Floors
My favorite pick for recliner floor protectors is X-PROTECTOR PREMIUM 16 pcs 2" Furniture Grippers.
These non-slide furniture pads are perfect to secure any furniture and appliance in place. You can use it on any type of floor including vinyl, laminate, carpet, and hardwood. Thanks to its thick felt 1/5" and soft rubber constructions.
The strong adhesive backing tightly holds the pads with the feet for a long time. Additionally, they won't come off from furniture feet. The rubber foam bottom of the furniture stoppers protects your floor from scratches and scuffs.
Most importantly, X-PROTECTOR NON-SLIP FURNITURE PADS are affordable.
Find more options for the best non-slip furniture pads for hardwood floors here:
2. Non-Slip Gripper Feet/ Furniture Caster Cups
This is another affordable solution for avoiding any traction over hardwood floors. It's worth noting that this item is designed for furniture or recliners that have wooden legs.
The shape of the caster cups allows the leg of your recliner to slots into the cup. Some models include additional rings to fit more sizes of furniture legs. They offer a lot more aesthetics and a minimal approach.
On the negative, caster cups are not perfect for recliners with metal frameworks.
Best Furniture Caster Cups
According to me, the best non-slip caster cups for furniture is CasterMaster 3X3 Square Rubber Furniture Caster Cups with Anti-Sliding Floor Grip (Set of 4).
The anti-slip flexible rubber construction of CasterMaster caster cups tightly grip your wooden floor and hold your furniture in place. Thanks to its small rubber ribs.
This rubber furniture cup works on all floor types including hardwood, carpet, tile, cement, and more. And you can use it with any home and bedroom furniture with feet.
It's also great for outdoor furniture, outdoor BBQ, upright and grand pianos.
Conveniently, this item is available in different square sizes: 2×2 inch, 3×3 inch, and 4×4 inch. Moreover, these are incredibly easy to use. Simply slide the cups underneath your furniture leg.
Find more options for furniture caster cups here:
3. Thick Area Rug
If your recliner has a metal base, an area rug can be your best option.
It's an expensive solution, but you can rest assured that it's worth it. Placing a thick and large area rug on the hardwood floor works great for multiple pieces of furniture. Fortunately, the area rug also works great for a recliner.
But, it's hard to find a smaller rug just for a single recliner chair. Moreover, a thin and small-sized rug tends to roll up on the sides which are also annoying. So, I recommend using a rug if you have more than one piece of furniture or a recliner sofa to place on the rug.
Best Area Rugs for Hardwood Floors
My choice is Persian Area Rugs 4620 Cream 8 x 11 Area Rugs.
For restricting the sliding of your recliner Persian 4620 is an excellent easy-care area rug to get. What's most impressive about this rug is it's available in multiple sizes- 2 ft. x 3ft. to 9ft. x 12 ft. So, you get the right one to meet your need.
This rug is aesthetically beautiful and expertly woven for exclusive quality.
Made with high-quality polypropylene, Persian area rug is built to last. You can use it in high-traffic areas in your home such as playroom, dining room, home office, etc.
Find more options for the best area rugs here:
4. Recliner Floor Mat
Place a non-slip floor mat under the furniture when sliding is a problem. It works best for a recliner with a wide base or hidden legs.
The mat will provide grip and help to keep the recliner chair in place.
If you want your mat to remain invisible underneath your recliner, get the small-sized mat possible that will cover the metal base only.
Best Mat for Hardwood Floors
From hundreds of available options, I prefer MuArts [Upgraded Version] Crystal Clear Heavy Duty Hard Chair Mat. It's one of the best mats for under recliner.
With 47-inch x 35-inch x 0.2-inch (length x width x height), dimension, it is one of the thickest and heaviest floor mats compared to other chair mats of the same size.
Made of hard material, this mat is durable and can withstand 1200lb of pressure. It's completely flat and can't be curled or folded. You can use it both on hardwood floor or carpet.
This mat is crystal clear as glass. So, your beautiful wood floor can be seen through this mat.
Find more options for the best floor mats here.
5. Cork Furniture Pads
The most affordable option you can try is a cork pad. It's also an environment-friendly option. However, it's a temporary solution and you have to replace it depending on your usage.
Pre-cut cork circles or squares are available. Put them under the four corners of the recliner's metal base. Make sure, the corks are slightly bigger than your metal framework.
Generally, corks are thicker than rubber grippers. So, your recliner could sit slightly higher. However, your chair's base/ feet may gradually sink into the cork over time.
I suggest checking the pads for wear every few months and replace them before they wear through.
Best Cork Furniture Pads for Hardwood Floors
My recommendation is Navaris Cork Furniture Pads.
This item comes in a pack of 215 pieces of multiple sizes and shapes. They
stick to the bottom of your furniture feet or bases to guard against sliding. You can use them on your hardwood, tile, linoleum, wood laminate, and vinyl floors.
They stick on the bottom of furniture legs or base, so there is no risk of damaging your furniture.
Find more options for the best cork furniture pads here:
Safety Tips
Avoid placing your recliner on the carpet if you have a hardwood floor. Because it won't restrict sliding rather it makes your recliner easier to slip.
Never keep wet rugs or plants on the wood floor, because these may cause the wood to warp.
If your floor is damp, wipe it with a dry microfiber cloth, then keep your recliner to its spot.
This is all about how to keep a recliner from sliding on wood floor.
Thanks for reading!