Welcome to my top 5 list and reviews of the best wall hugger recliner.
If you've done any type of research on recliners you've probably noticed that regular reclining chairs are bulky. They take a huge space to stretch out.
So, what if you live in a house with limited space such as a studio apartment?
Does that mean it'll deter you from owning a recliner?
Of course not!
The space-saver design of a wall-hugging recliner (also referred to as a wall away recliner or a wall-saver recliner) lets you enjoy all the benefits of a standard recliner, without taking up much space.
But finding the best wall-saver recliners that fit your small space, body, and budget isn't as relaxing.
Reliable and most popular recliner brands offer more than one model. So, selecting the right one also becomes difficult.
I've extensively reviewed and shortlisted 5 top-notch models on the market.
Let's reveal them.
5 Best Wall Hugger Recliners- Real-User Reviews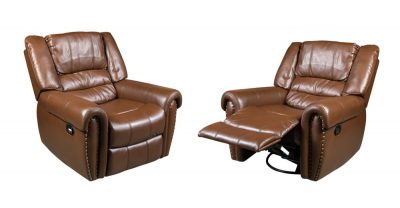 There are myriad varieties available. Every recliner brand claims to offer the best wall-saver recliner for the money. But, not every model is worth your hard-earned money.
During my top-list selection process, I've emphasis on the essential feature of this type of recliner. I've taken into consideration wall clearance, dimension, ease of use, weight capacity, and price to quality ratio.
These 5 best wall-away recliners are by far the most affordable and best choices that you can get.
Recliner dimensions – 40" D x 44" W x 48" H
Fully extended: 72 inches
Weight – 166 lbs.
Weight limit – 500 lbs.
Wall clearance: 6 inches
Cover Material: Suede
Available Color: Available in 8 colors
Lane home furnishing is one of the trusted brands for offering classic and trendy furniture. Since 1912, Lane is dedicated and committed to providing smart furniture at the price you want.
Lane Home 4501-190 is not an ordinary recliner. It is one of the highest-quality wall-saver recliners available.
Perfect for tall and big people: If you're looking for the best wall hugger recliner for tall and big people, it'll be perfect for you. With 40 x 44 x 48 inches dimensions, it can comfortably accommodate big people. The extra-tall seat back and chair height makes it perfect for taller users.
Ultra-comfy: You can enjoy a royal level of comfort. The superior density foam makes it ultra-comfortable. It reclines to a full 79 inches which is almost the length of a king-size mattress.
Heavy-duty Construction: The heavy-duty steel frame and drop-in coil system support up to 500 pounds. The seat box and base are made of 7-gauge steel. Additionally, the locking footrest, superior leg support, and bolted arm mechanism offer ultimate supports, added strength, and durability.
If you're looking for the best wall hugger recliner chair for adults, don't miss this model.
Top Features & Pros at a Glance
Made for the tall and big people
500 pounds load capacity
Perfect for every body type and size
44-inch wide to provide total comfort
Full-body recline like a king-size mattress
Arms bolted to a mechanism for stability and longevity
7-gauge steel for strength and durability
Drop-in coil seating for longer-lasting consistent comfort
2.5 density high-resiliency foam cushion for ultimate comfort
Available in a couple of color options
Cons
Recliner dimensions – 35" D x 36.25" W x 41.8" H
Fully extended: 62 inches
Weight – 125 lbs.
Weight limit – 330 lbs.
Wall clearance: 20 inches
Cover Material: Faux Leather
Available Color: Brown, Black
Do you have difficulty sitting down and getting back up again? Worried about not having enough space in your apartment for a regular electric recliner?
Then, the U-MAX wall hugger lift recliner can be a game-changer. It brings the home luxury you deserve. It's also one of the best leather recliners. The best part of this reclining chair is the vibrating and heating massage function to give you total relaxation.
OKIN motor with UL recognized certification: Its silent power lift mechanism pushes the entire chair up to help you stand up easily. You don't need to add any stress on your knees and back. It reclines smoothly up to 140-degree.
Ultra-comfortable: The head, back, and armrest of this power recliner are padded with extra-thick sponge padding. The soft and sturdy PU leather also adds comfort and durability.
Heating and vibrating massage function: It offers you eight vibration points with five vibration modes and two intensities. There is also one heating area in lumber.
One of the great advantages is the massage and heating function can work separately. Moreover, the timer turns off the function after 15-, 30- or 60-minute fixed times for the ultimate relaxing experience.
Remote control: You don't need to worry about any manual operation. Included two separate remotes allow you to operate its functions easily.
Four Storage pockets: You can conveniently store the remotes and magazines at a handy reach position.
Two cup holders: They hold your coffee cup and bottles
Top Features & Pros at a Glance
Wall-hugging design; so, it doesn't require much clearance to recline
Lift chair which is perfect for elderly people and who have limited mobility
Four massage points: back, lumber, tight and leg,
Five massage control modes: regular, wave, press, pulse, press, and auto
Heat function at the lumbar area
Reclines to 140 degrees with 3 positions- TV, read, and nap.
Extra thick padding at headrest, backrest, armrest, and seat area.
PU leather cover feels like paradise. It is skin-friendly and soft-to-touch.
Durable, sturdy, and easy to maintain upholstery
Heavy-duty steel frame for 330-pound weight capacity, maximum stability, and safety
Cons
Electric control, but no battery backup system included in case of a power outage
More Choices for the Best Faux Leather Wall Hugger Lift Recliner
Choice1: JC Home Sabadell Wall-Hugger Power-Lift Recliner with Faux-Leather Upholstery

If you're looking for the Faux-Leather Wall Hugger Power Recliner, JC Home Sabadell can be the right option for you.
Top Features of JC Home Sabadell
Power-lift mechanism for easy in and out
Space-saving design only needs 4 inches of clearance from the wall to lift or recline
Casual contemporary style ideal for a living room, den office, or living room
Supportive and comfortable cushions
Attractive and durable bonded-leather upholstery
Wired power control ensures easy operation
Dimensions: 34.6 by 37 by 41 inches (LxWxH)
Weight Capacity: 325 pounds
Choice 2: FDW Wall Hugger Lift Chair for Elderly
It's a new electric lift chair from the FDW brand. It is great for multiple scenarios- watching TV, reading, sleeping, or simply relaxing. Additionally, the power lift feature is great to stand up from the recliner easily.
Top Features of FDW Power Recliner
High-quality motor for low noise and stable operation
Made of premium quality PU leather that makes it very easy to clean. It's soft, comfortable, and durable.
Filled with the high-density sponge for ultra-comfort
Handheld remote control with a cord so that the remote can't get lost
Two Button control makes it easy to use, no need to be worried about manual operation.
Five functions massage mode with two vibration intensities and heating function
High-quality alloy telescopic frame and high load-bearing for 250-pound weight capacity
USB charging port for charging low-power devices such as iPad, phone, or headset
Enlarged and widen open storage bag to keep your essential at your easy reach
Recliner dimensions – 30″W x 37 1/2″D x 39″H
Fully extended: 62.5 inches
Weight – 88 lbs.
Weight limit – 500 lbs.
Wall clearance: 3 inches
Cover Material: Faux Leather
Available Color: Mahogany, Putty, Toffee
If you are searching for the best wall-away recliner for an enjoyable road trip in your RV, trailer, or camper, ZWR 30 is a great choice.
Don't be a loner at your home or on a mobile vacation! This model comes as a set of two for cozy "together" time. If you want to add seating but don't want a loveseat or sofa, this set of two can be an excellent alternative.
Heavy-duty construction: This stuff is sure to last you many years. Its sturdy frame makes it stable and durable.
Faux leather upholstery: This construction guarantees long service life. Of course, due to faux leather's anti-spill feature, it is easy to clean and maintain.
Fully padded seat, back, and headrest: It ensures total comfort and support.
Space-saving but fully reclines: It reclines fully with the leg support up for a comfortable napping position. What's more, at a fully extended position, it only requires 3″ of clearance from the wall.
Top Features & Pros at a Glance
Space-saving zero wall-hugging design
Requires three inches of clearance from the wall to recline fully
Faux leather upholstery for easy maintenance and long-lasting performance
Available in Mahogony, putty, and toffee color to match your style
For a set of 2 recliners, the price is great.
Cons
Not perfect for tall people (over 5'9″); So, if you're looking for a tall man recliner, it's not for you.

Recommendation for the Best Rated Wall Hugger Recliner
RecPro Charles ZWR-30 Zero Wall RV Recliner | Cloth (2 Chairs, Oatmeal)
RecPro Charles Collection also offers you this (set of Two) 30″ Zero Wall RV Recliner with buttery soft Suprima Linen Cloth upholstery. This model is available in oatmeal and fossil color. It is also one of the best-rated wall saver recliners.
ZWR-30 2-chair set can be a wonderful addition to your RV or small living space, offering maximum support and comfort for your back and legs with top-quality materials.
***If you don't want a set of two, RecPro Charles Collection also offers the following recliner (1 chair).
https://www.amazon.com/dp/B071VTKJX2?tag=cozyseating-20&linkCode=ogi&th=1
It's also one of the best RV wall hugger recliners available in the market. It can be the perfect solution for your small home away from home.
Recliner dimensions – 29 x 39 x 37.5
Fully extended: 62″ D
Weight – 178 lbs.
Weight Limit – not specified
Wall clearance: 4 inches
Material: Cloth Linen
Available Color: Oatmeal, Fossil
RecPro Charles 58″ is one of the best electric wall hugger loveseats. The compact design is perfect for smaller rooms, trailers, or RVs.
Modest footprint: Each seat of this double RV wall hugger recliner sofa measures 29" (W) by 39" (H) by 37.5" (D). The total width is 58-inch.
Individually powered seats: Both seats are individually powered, so both users can find their comfortable reclining position. The included 71.5-inch cord is long enough to connect to a power outlet.
Wall-hugger design: The loveseat measures 62-inch when fully extended and it requires only 4-inch clearance from the wall. The compact size of this furniture fits through a 22-inch doorway.
Deep and comfortable cushions: The cushions feel amazing to cradle you in softness.
Cloth covering: This model is available in fossil and oatmeal colors to blend any décor. These calm colors are less likely to attract the sunlight and fade. Moreover, the cloth covering looks great is easy to clean, and can stand up to the test of time and use.
Contemporary style couch: You can connect this standard recliner loveseat to your other pieces in the Charles furniture line for a customized look.
Two cup-holders with LED connection: The lighted cup-holders are convenient to use in dark or low-light conditions. Additionally, it includes a USB port in the rim of the cup holder, so you can easily charge your phone when you relax.
Top Features & Pros at a Glance
Wall-hugger compact footprint (requires 4-inch clearance)
Individually powered seats for versatile uses
Contemporary style
Compatible with any RecPro Charles furniture for customized settings
Linen cloth covering; easy to clean
Lighted two cup-holders with a USB port in the rim
Cons
Recliner dimensions – 58″W x 37″D x 39″H
Fully extended: 62″ D
Weight: not specified
Weight Limit: not specified
Wall Clearance: not specified
Cover Material: Faux leather
Available Color: Mahogany

If you're looking for the best wall hugger loveseat recliner with leather upholstery, the HLWL 58″ double is the right option for you. It's perfect for any home, apartment, camper, and RVs.
Cutting edge design: This faux leather recliner will never go out of fashion. It creates incredible texture, appearance, and softness that mimics leather furniture. Space-saving double zero wall-hugging design saves space and requires minimal clearance from the wall.
Easy to operate: this manual RV loveseat includes an easy-to-pull parachute handle. So, you can operate it easily and smoothly.
Simple to assemble: Modular structure of this wall hugger sofa makes it hassle-free to put gather. It may take less than 10 minutes to assemble.
On the negatives, the price won't be pocket-friendly for buyers on a tight budget.
Top Features & Pros at a Glance
Cutting-edge design
Zero wall clearance to save space in your home
Easy to pull parachute handle for smooth and easy reclining mechanism
Modular structure for easy assemble; it takes less than ten minutes to put together.
Faux Leather (Polyurethane) upholstery for easy cleaning and durability
Cons
How to Choose the Right Wall Hugger Recliner
I hope, you've already decided to buy a new recliner from our top-list.
But, wait!
Although all our selected models will offer you the best value for your money, you've considered a few factors before adding one to your cart.
Type of Wall Hugger Recliner
Wall hugging recliners are available in different types such as wall-saver loveseat or sofa, manual recliner, wall hugger recliner for RV campers, power lift recliner, swivel wall hugger recliner, etc. Some are designed especially for small spaces while oversized wall hugger recliners are also available.
Some models are available in "Set of Two". So, before hitting the cart button decide which type of wall-saver recliner will work best for you.
Wall hugging reclining chairs are specially designed to fit in a small apartment, RV, trailer, or any small space. They require less space from the wall to the chair to recline. In general, they require 3 to 4 inches clearance to achieve the full recline position. So, consider your available space.
Weight Capacity of the Recliner
It's one of the most important considerations when it comes to choosing the right model for you. Each model comes with a recommended weight capacity. A model with 250 pounds weight capacity is unfavorable to overweight people. A recliner with 500 pounds load capacity can accommodate almost everyone. If the weight exceeds the recommended capacity, the recliner frame might not be able to withstand it resulting in an accident.
Along with the load capacity, it's also essential to look at the dimension of the recliner. You should check the overall height and width of the recliner to ensure it'll enter through your doorway seamlessly. Don't forget to check the seating area and floor to seat height.
Wall hugger recliner cover and padding play an important role in offering comfort. The upholstery cover may be made of leather, polyester knit materials, or microfiber. Some models are also available in a combination of cotton, polyester, or acrylic. Whatever you choose make sure it's easy to clean, and durable. If you live in a hot weather area, avoid leather.
The seat, armrest, and backrest should be well-padded for a relaxed and comfortable feel. Soft cushion padded armrest and the back seat will offer incomparable comfort. Additionally, a premium-quality cushion offers excellent support to the back, hips, and lumbar area to prevent pain.
A wall hugger recliner with heat and massage function is perfect for seniors or people with pain.
If your height is more than 6'4", choose a wall hugger recliner for tall men to ensure your comfort level.
The material used in the frame goes a long way in determining its longevity. In general, the frame consists of hardwood which is reinforced with sturdy metal nuts and bolts.
Make sure that it's well-made to withstand weight-shifting and motions.
Look for what extra features your selected model comes with. A recliner may include cup holders, USB ports, etc. The cup holder is a nice addition to having your coffee mug or glass of water within your arm's reach. If you like to enjoy your favorite juice during your relaxation time, a wall hugger recliner with cup holders can be your best choice.
The USB port will allow you to charge your essential gadgets.
So, who makes the best wall hugger recliner?
When it comes to the best recliner brands RecPro, Lane Home Furnishings, U-MAX, JC Home, FDW, HLWL are some of the names to be mentioned. Choosing a well-known brand will ensure that you will get a reliable product.
How does a wall hugger recliner function? Find here.
Best Wall Hugger Recliner- My Parting Shots….
I hope you have enjoyed reading this review of the five best wall hugger recliners. And this guide on how to find and purchase the right models for your needs was helpful to you.
After reading this post, you feel more confident in shopping for a new reclining chair for your compact space. Right?
So, why are you waiting for?
Buy and enjoy it for years to come.